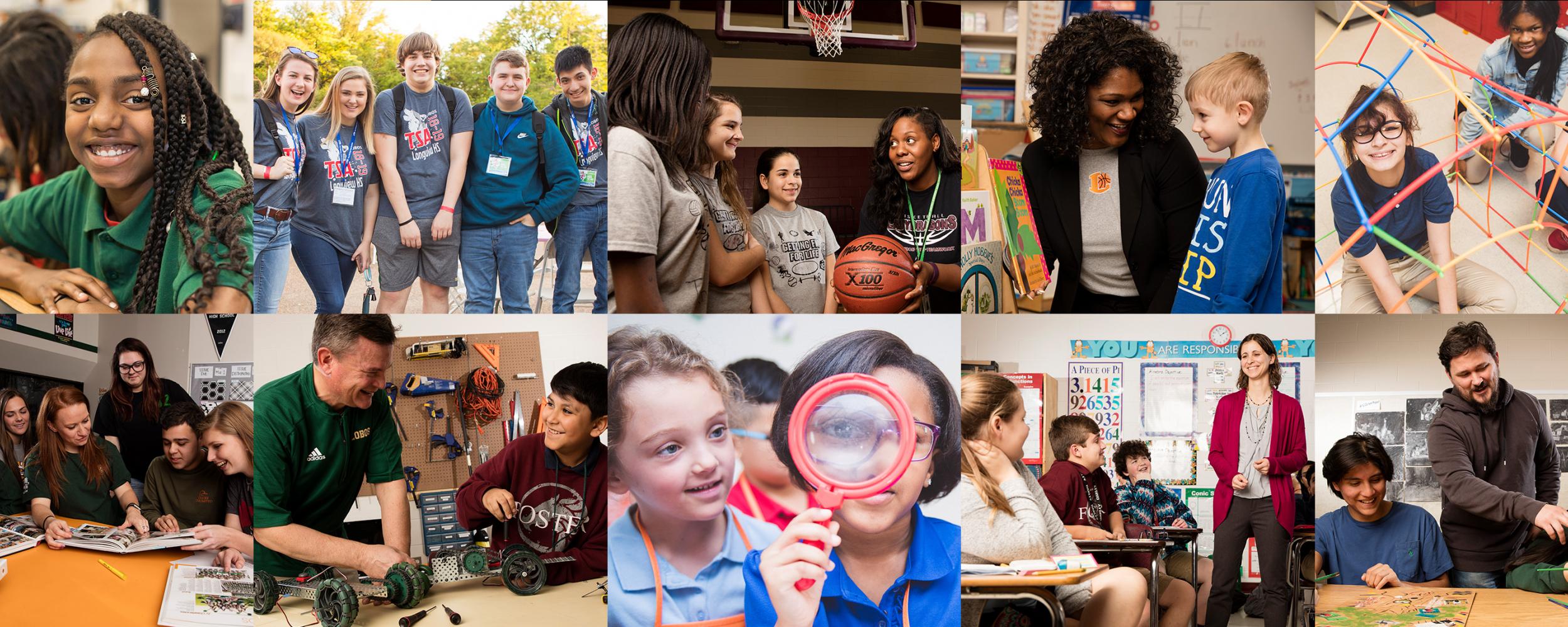 Overview of the Program
Regional Day School Services for the Hearing Impaired provides for the special education needs of hearing impaired students through a shared service arrangement. Approximately twenty East Texas area school districts participate in the shared service arrangement. The goal is that each hearing impaired student whose hearing loss impairs speech, language and academic achievement will receive specialized instruction and related services so that his/her communication skills are commensurate with hearing peers.
Services for Students with Hearing Impairments
Regional Day School Services for Hearing Impaired provides services to students who have an educationally significant hearing loss ranging from mild to profound. Following a full assessment, educational services for individual students are developed through an Admission, Review and Dismissal (ARD) meeting. The ARD meeting includes the family, certified teachers of the deaf and hard of hearing and other educational professionals. Educational services may include audiology, individual speech-language therapy, academic instruction and related services.
Instruction by certified teachers of the deaf may include the methodologies of listening and spoken language or listening, spoken language and sign language as determined by the ARD committee. There is a continuum of student support services for students who are deaf and hard of hearing according to their individual needs, and may include:
Early Intervention - Students from birth to age three and their families are served in collaboration with Early Childhood Intervention (ECI) in the home or other natural setting as determined by an Individual Family Service Plan (IFSP).
Itinerant Instruction - Traveling teachers work with students one or more times per week providing special instruction services in a collaborative environment within the home district.
Cluster Campus - Students are on an age appropriate public school campus and educated with hearing peers to the maximum extent possible with instruction from certified teacher of deaf and hard of hearing. Services include academic instruction and specialized speech and language services on a daily basis.
Communication Support -

A variety of communication methodologies including oral and total communication.
Individualized speech, language, listening therapy and instruction.
Sign language interpreting.
Audiological Support.

Technical assistance to maintain student amplification and cochlear implants.
Assistive listening devices.
Contacts
LISD Regional Day School for the Hearing Impaired Central Administration
Laura Lott, Director
llott@lisd.org
phone-903-381-2263
Nelda Oswalt, Secretary 
noswalt@lisd.org
Phone-903-381-2261
 
Johnston McQueen
Jaton Magness, SLP/Audiologist  
Johnston-McQueen Elementary
lmagness@lisd.org
Phone-903-803-5300
Iris Counts, Pre-School Teacher/Deaf/HH  
Johnston-McQueen Elementary
tcounts@lisd.org
Phone-903-803-5326
Gorgeen Spyhalski, Lower Elementary Teacher/Deaf/HH 
Johnston-McQueen
gspyhalski@lisd.org
Phone-903-803-5325
Whitney Reardon, Upper Elementary Teacher/Deaf/HH
Johnston-McQueen
wreardon@lisd.org 
Phone-903-803-5300
Xocia McClendon, Certified Interpreter of the Deaf
Johnston-McQueen
xmcclendon@lisd.org
Phone-903-803-5300
Judson Middle School
Amanda Dunnavant, Middle School Teacher/Deaf/HH 
Judson Middle School
adunnavant@lisd.org
Phone-903-446-2610
Melody Fitzgerald, Certified Interpreter of the Deaf 
Judson Middle School
mfitzgerald@lisd.org
Phone-903-446-2610
Ellen Burnett, Itinerant Teacher/Deaf/HH 
Judson Middle School
mburnett@lisd.org
Phone-903-381-2261
 
Longview High School
Deana Johnson, High School Teacher/Deaf/HH 
Longview High School
djohnson@lisd.org
Phone-903-663-7146
Jackie Mullins, Certified Interpreter of the Deaf 
Longview High School
jmullins@lisd.org
Phone-903-663-7183
Student Development Center
Betty Snellings, Itinerant Teacher/Deaf/HH 
Student Dev. Center
bsnellings@lisd.org
Phone-903-381-2261