Dr. James E. Wilcox
Superintendent of Schools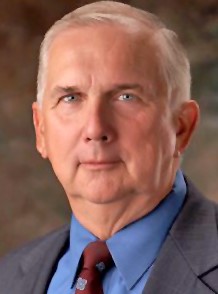 Dr. Wilcox was chosen to lead Longview ISD in 2007, after serving at the helm in Waxahachie. He began his career in the classroom in 1973 and has served in various capacities through the years, including principal and superintendent. Wilcox holds a B.B.A in general business administration and an M.Ed. in educational administration from Lamar University. He became a Doctor of Education in 1987 at Texas A&M University.
Wilcox came to Longview from Waxahachie ISD in April 2007. Though many new academic and career and technology programs, including districtwide International Baccalaureate and Montessori programs, were established under his watch, the highlight of Wilcox's tenure was a $267 million bond election that brought seven new elementary campuses, three new middle school campuses and extensive improvements at Longview High School. Wilcox also oversaw the district rezoning – reducing the previous 28 attendance zones to six – which paved the way for a federal court to relax a 40-year-old desegregation order.
During his tenure, Longview ISD has continued to expand its academic and extracurricular offerings to become a destination district for high-achieving students, families, and education professionals. .