Image

Longview ISD board members unanimously approved
a proposed lower tax rate for the fifth straight year

, and reviewed a proposed balanced budget, in addition to calling for a Nov. 7 bond election, during their regular meeting Monday, Aug. 14.
Five straight years of tax rate cuts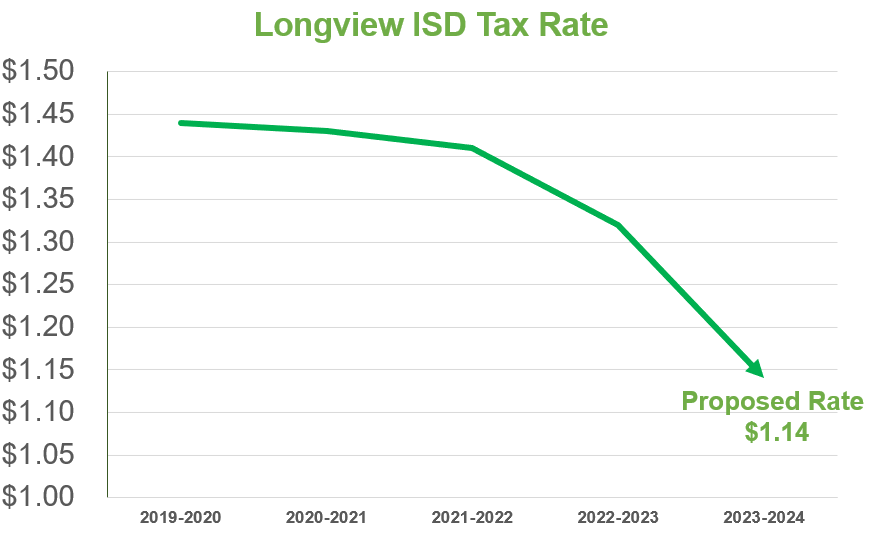 The Longview ISD Board of Trustees approved setting a proposed 2023-24 property tax rate. If approved later this month, the proposal would see the tax rate decrease considerably from $1.3276 per $100 valuation for 2022-23 to $1.1422 per $100 valuation for the 2023-24 fiscal year.
The proposed 2023-24 tax rate includes $0.6692 for Maintenance and Operations (M&O) and $0.4730 for Interest and Sinking (I&S), resulting in the $1.1422 total rate.
Longview ISD is projecting a balanced General Operating budget of $100,715,705 for the 2023-24 fiscal year. Dr. Wayne Guidry, Assistant Superintendent of Finance, said if the proposed budget receives final approval next month, the total proposed budget revenue is $100,715,705, up from the 2022-23 budget total of $94,214,401. The total proposed expenses are $$100,715,705.
A meeting and public hearing will be held at 12 p.m. Aug. 30 to discuss, consider, and possibly approve the proposed 2023-24 budget and tax rate.
Superintendent Dr. James Wilcox explained the district's history of cutting the tax rate over the last few years, after keeping the same rate stable for nearly a decade.
"The board maintained the same tax rate of $1.5130 from 2010 until 2019 — when the district reduced the rate to $1.4430 — and we've continued to reduce it each year since," he said. "This illustrates how Longview ISD has worked to offset the sharp increase in property tax valuations that are well beyond our control."
While the district has reduced the LISD property tax rate for the last four fiscal years, the amount of property taxes collected may increase due to a rise in the value of the property, which is determined by the county appraisal district. In accordance with state law, the tax rate ultimately adopted at this meeting may not exceed the proposed rate, unless the district publishes a revised notice containing the same information and comparisons, in addition to holding another public meeting to discuss the revised notice.
Local stakeholders are invited to attend and share comments on the proposed budget and tax rate for the coming fiscal year. For questions about the budget and proposed tax rate please contact the district at ask@lisd.org or call 903-381-2200.
Please click here to download the resolution and related documentation.
Board calls bond election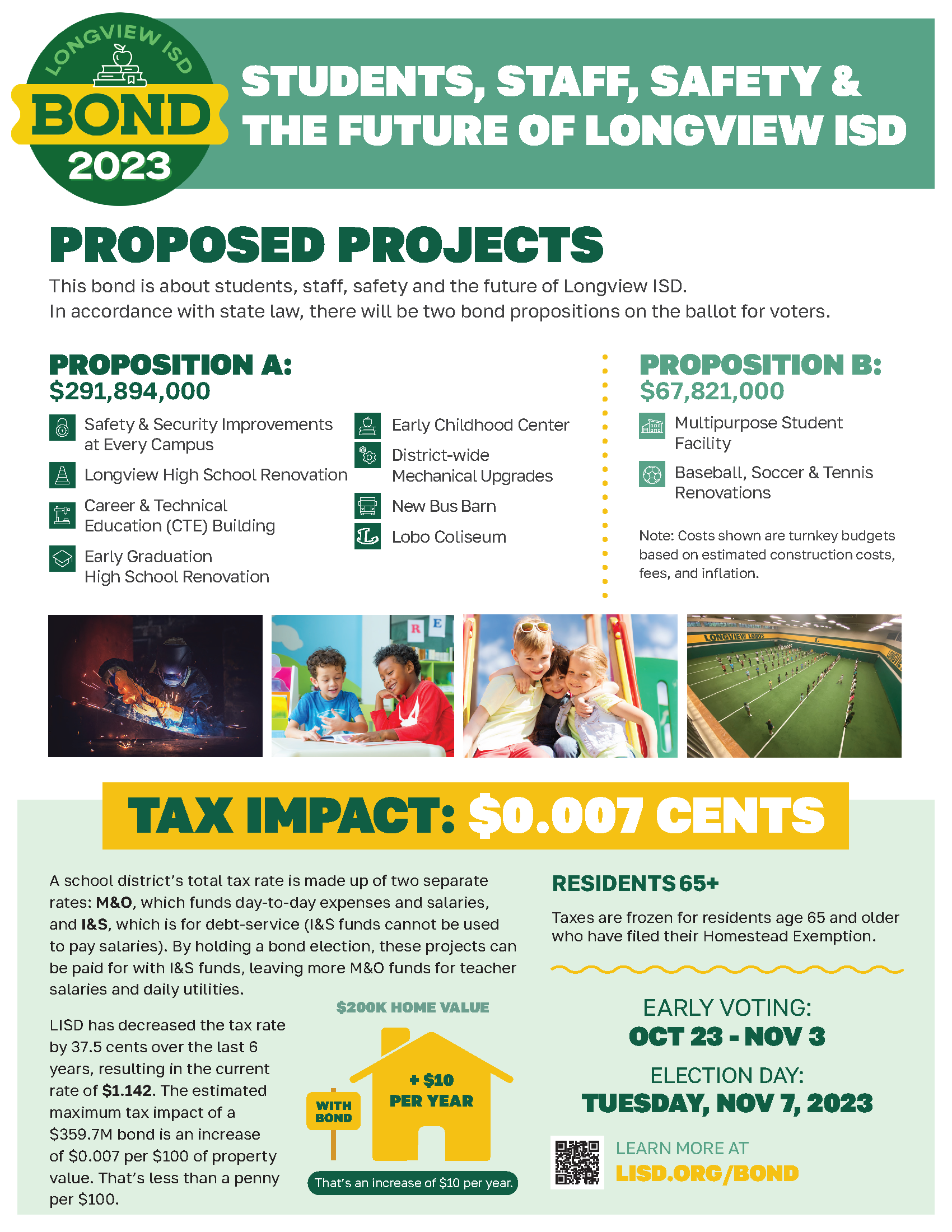 Later, board members unanimously called a Nov. 7th bond election for two propositions totaling about $359.7 million to fund crucial upgrades, including safety enhancements, and improved facilities.
Proposition A, $291.894 million: Safety and security improvements; Longview High School renovation; Career & Technical Education Building; Early Graduation High School renovation; Early Childhood Center; district-wide mechanical upgrades; new bus barn; Lobo Coliseum upgrades; and
Proposition B, $67.821 million: Multipurpose student facility and renovations to baseball, softball, soccer, and tennis facilities.
Please click here to read a full article about the 2023 bond election.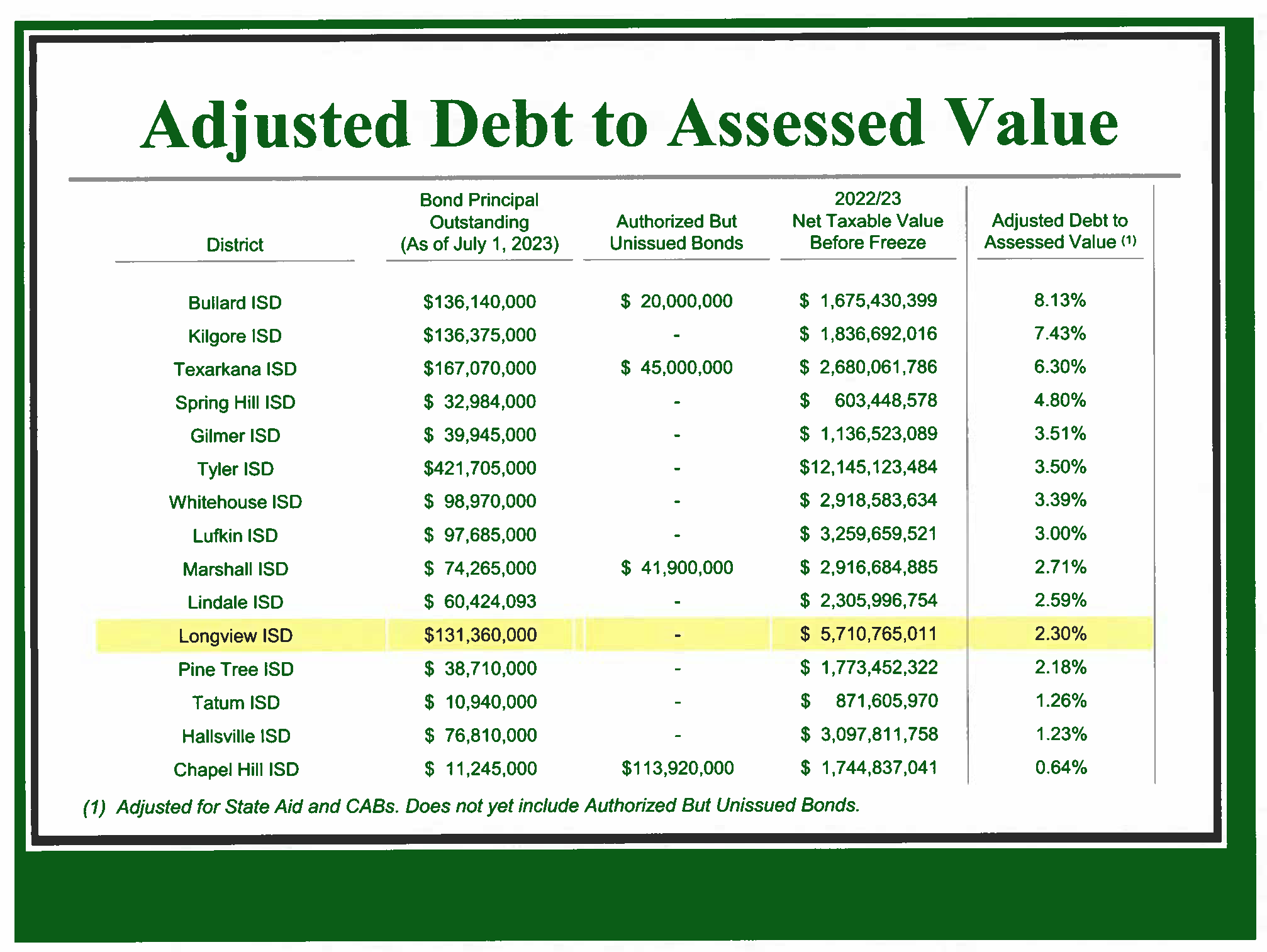 Longview ISD's tax rate dropped over 37 cents in the past 6 years, now at $1.1422. If all three bond propositions pass, the estimated maximum tax increase is $0.007, around one penny. This means an extra $10 per year for an average $200,000 home. Compared to nearby districts, LISD maintains a low 2.3 percent debt-to-assessed value ratio, one of the lowest in our area.
Early Voting is Oct. 24 to Nov. 3, and Election Day is Nov. 7. 
More information about the bond election will be available on the district website at www.LISD.org/bond.
Special election for Place 5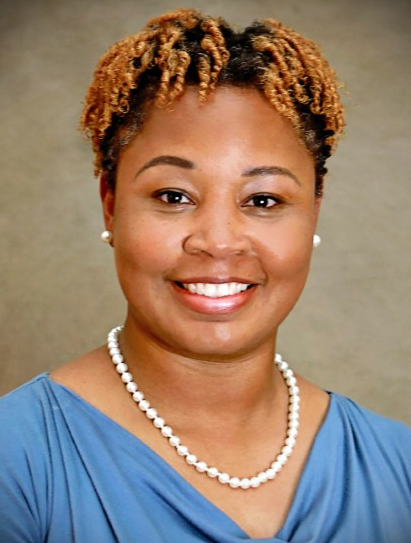 Board members also unanimously called for a special election on Nov. 7th to fill the unexpired term for Place 5. Longview ISD trustees are elected to serve three-year terms.
The seat has been vacant since former Place 5 trustee Mrs. Shan Bauer stepped down June 1st due to her family's relocation to the Dallas area. 
Early Voting is set for 8 a.m.-4:30 p.m. Oct. 23 to Nov. at the LISD Education Support Center boardroom, 1301 East Young Street. Election Day is set for 7 a.m.-7p.m. May 5.
Campuses zoned in Place 5 include the Playing For Keeps/Early Childhood Center, Bailey and Hudson PEP elementaries, Foster Middle, and Longview Early Graduation High.
Serving as a link between the community and the classroom, school board members are elected to establish the policies that provide the framework for public schools. LISD trustees are responsible for an annual budget of more than $100 million, over 8,000 students, and nearly 3,000 staffers.
The current Board of Trustees for Longview ISD is Mr. Michael Tubb (Place 1), Mr. Brett Miller (Place 2), Dr. Samir Germanwala (Place 3), Mrs. Crista Black (Place 4), Mr. Ted Beard (Place 6), and Dr. Troy Simmons (Place 7).
For more information please contact LISD Elections Coordinator Mrs. Milagros Cordoba at 903-381-2200.
Monitoring district food storage
Later, board members unanimously approved the purchase of a monitor-alarm system for all Child Nutrition walk-in freezers and coolers at a total cost of $101,413.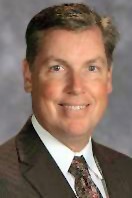 Dr. James Hockenberry, Assistant Superintendent of District Services, explained that the system will instantly notify Mr. Mike Gipson, LISD Maintenance Supervisor, Ms. Phyllis Dozier, Director of Child Nutrition, and Ms. Chardee' Snoddy, District Chef, and himself. 
"This new system will provide the district with an increase in monitoring of our coolers and freezers across the district, safeguards for power outages, and several other functions our current system does not possess. As such, our food stored in coolers and freezers will become much less vulnerable to total failure and loss of food, he said."
Funding for the purchase will come out of the district's cafeteria fund. 
Please click here to download the resolution and related documentation.
No recapture payments for LISD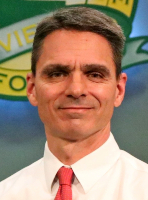 Board members also unanimously approved an agreement for the purchase of Attendance Credit (Option 3 Agreement) and to delegate contractual authority to the LISD Superintendent.
Dr. Guidry explained that the Texas Education Agency informed his office that district's estimated recapture cost is $0, so Longview ISD is required by statute to submit the district intent/choice selection and agreement contract. 
"Longview ISD will not owe TEA any recapture payments for the 2023-24 school year," he said. "This action is only a formality to comply with current law."
Please click here to download the resolution and related documentation.
Superintendent's Report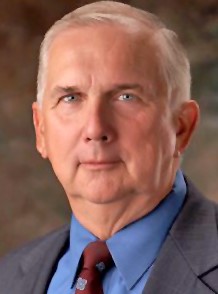 During the Superintendent's Report segment of the meeting, Dr. Guidry presented the results of a district survey regarding the possibility of a bond election. Dr. Wilcox explained that this information contributed to the LISD leadership's decision-making process as they considered whether to recommend a bond election proposal to the board.
The report also included the latest Campus Data Monitoring analysis, RAPTOR (Rapid Algorithmic Prototyping Tool for Ordered Reasoning) data from the Office of Innovation, and the monthly District Services summary. 
In addition, Dr. Wilcox also received presentations from public school charter partners: East Texas Advanced Academies, Longview Educates and Prospers, and Texas Council for International Studies (TCIS).
District Donations
Board members unanimously approved the following donations:
$8,000 from LHS Football Booster Club to cover travel expenses for 2023 season;
$7,500 from LHS Football Booster Club  to provide supplies and equipment for student programs;
$2,260 from LHS Volleyball Booster Club to cover Forney Tournament travel expenses;
$1,800 from Texas Bank & Trust and $1,500 from Southside Bank to co-sponsor the New Employee Orientation Luncheon on Aug. 1st;
$1,190 from LHS Volleyball Booster Club to cover Duncanville Tournament travel expenses;
$750 from Fitzpatrick Media Group of Longview to LHS Football to provide supplies and equipment for student programs; and
$550 from Weber Landscape & Maintenance, $424 from Texas Roadhouse of Longview, $100 from Camp County Monument Co. and East Texas Professional Credit Union each, to LHS Majorettes to provide supplies and equipment for student programs.
In other business...
During the course of the meeting, the LISD Board of Trustees also:
APPROVED amending the LISD Incentive For Teachers (LIFT) payment schedule for district Career & Technical Education staff;
APPROVED amending the Longview ISD District of Innovation Plan, originally approved by the board on March 4, 2019;
APPROVED revised Return to In-Person Instruction and Continuing of Services (RIPICS) for 2023-24;
APPROVED revised engagement of Valley View Consulting for investment advisory services;
APPROVED Minutes and Board Time Use Tracker for the July 17, 2023 Regular Meeting;
APPROVED annual renewal of facility use contract with Child Evangelism Fellowship;
APPROVED the 2023-24 stipends for Spanish Reading Language Arts lead teachers;
APPROVED annual renewal of SeeSaw Children's Place Agreement for 2023-24;
APPROVED revised ESSER III Spending Plan for 2023-24;
APPROVED Financial Statements as of July 2023;
APPROVED district appraisers for 2023-24; and 
APPROVED Budget Amendment No. 10. 
For more info
Trustees usually meet in the boardroom of the LISD Education Support Center (1301 E. Young Street), but often set special-called meetings at various locations around the district. The next regular meeting is tentatively scheduled for 6 p.m. Sept. 11, 2023.
For more information about the Longview ISD Board of Trustees please click here.