Image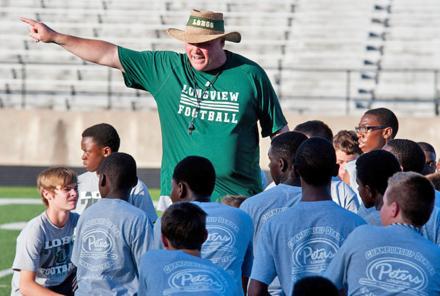 School's out, summertime is here, and Longview ISD is hosting various athletic camps to help our young Lobos be the best they can be.
The Lobo Summer Strength & Conditioning program for all LISD students in grades 9th-12th is set for May 31st through July 28 at Lobo Stadium. Grades 7th and 8th will workout from June 13th through July 22nd. 
Workout days are Mondays, Tuesdays, and Thursdays, with male athletes working out at 8 a.m. and female athletes at 10 a.m.
Meals will be provided, and there is no cost for the program. Students must provide the proper workout attire of shorts, T-shirt, and footwear (cross-trainers and turf cleats are recommended).
Coach John King said these summer workouts are an excellent way for younger athletes to help develop a sense of being part of the Lobo Athletic program.
"Many of the great Lobo multisport athletes you see on the varsity level—who eventually end up playing collegiately—got their start as younger students going through drills during our summer camps," he said.
Close attention will be paid to the students' hydration during all Lobo athletics camps and programs, Coach King added. 
"Our students' health and well-being will be top priority at all times," he said. "Our coaching staff will be closely monitoring throughout all camps to ensure our young people are getting plenty of water and not getting too hot."
For more information please call the Lobo Athletic Office 903-381-3950.
Here are more athletics camps for our young Lobos:
Basketball (boys & girls) 
Dates: May 31-June 3
Times: 1 p.m. to 4 p.m.
Cost: $80 per camper or $70 per camper for Longview ISD employees and siblings (includes camp shirt)
Camp Information: Join the LHS Lobo and Lady Lobo coaching staff as they work with students on ball handling, technical skills, and more. Camp is for boys and girls ages 6-15. For additional information, families may contact Coach Newton (dnewton@lisd.org ) or Coach Legget (mewatson@lisd.org) 
Click here to register! 
Lady Lobo Volleyball All-Skills Camp
Dates: June 7-9 (incoming 3rd-9th)
July 25-27 (incoming 7th-9th)
Times: 6 p.m. to 8 p.m.
Cost: $40 incoming grades 3rd-8th/$20 incoming 9th grade (includes camp shirt)
Camp Information: Join the Lady Lobo Volleyball team and coaches for this all-skills camp! Camps fees are due May 27 for June session and July 22 for July session. For questions please contact Coach Chaka Jackson at cjackson@lisd.org. 
Wrecking Crew Skills Camp
Dates: Various dates throughout June and July
Times: times vary depending on camp session
Cost: $20-$45 (depending on camp session)
Camp Information: Join Coach Jackson and the Wrecking Crew coaches for skill camps, setting clinics, hitting clinics, and ball control clinics. 
Lobo Baseball Camp 
Dates: June 13-16
Times: 8 a.m. to 11:30 a.dm.
Cost: $80 (1/2 off for second sibling & any LISD employee)
Camp Information: Join the Lobo Baseball coaching staff as they work with campers on various baseball skills. Campers will be sliding and may want to bring extra clothes. Catchers, please bring your catcher gear. Campers will also need to bring gloves, helmet, hat, baseball shoes (no metal cleats), sunscreen, and towel. Please RSVP by June 10 to Coach Goldman at jgoldman@lisd.org 
Lady Lobo Softball Camp
Dates: July 12 & 14
Times: 5:30 p.m. to 8 p.m.
Cost: $20 per camper
Camp Information: The Lady Lobo Softball program will be hosting this camp in hopes of allowing athletes to learn, develop and enhance their skills in all aspects in the game of softball. There will be two divisions for the camp, incoming 4th - 6th graders and incoming 7th - 9th graders.
Click here to register!
Lobo Football Camp
Dates: July 25-27
Times: 8:30 a.m. to 11 a.m.
Cost: FREE
Camp Information: Campers will be given an opportunity to participate in fundamentals, competition, LOBO philosophy, training, and nutritional guidance. Campers will need football cleats, tennis shoes, and athletic clothing.