Image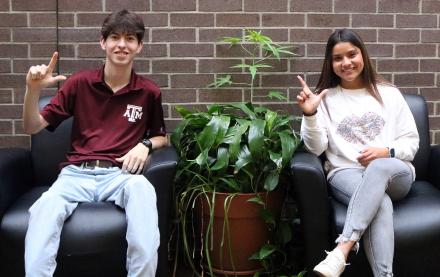 Congratulations to Longview High seniors Joshua Sanders and Adriana Corona for being selected as The Longview Voice Scholarship winners for 2022! 
Joshua is the son of Mark and Suzanna Sanders of Longview. In addition to also being a member of the National Honor Society, Joshua has spent much of his life helping to give back to the community through LHS AMBUCS, which he is currently president of, as well as creating businesses that have helped employ others. He plans on giving back to the community even more after he returns from graduating from Texas A&M University Mays Business School. 
Adriana is the daughter of Heron Corona and Savannah Rodriguez of Longview. Not only has Adriana seen great success on the Lobo soccer field, but she is also a member of the National Honor Society, and plans on continuing her soccer career at Texas A&M at Texarkana where she will be majoring in nursing.  
Selected for their contributions to the Voice as well as their impressive level of achievements both inside and outside the classroom, Adriana and Joshua will each receive a $1,000 scholarship to college. They mark just two of the hundreds of LHS seniors earning scholarships in the Class of 2022. 
"Longview ISD is blessed to have such amazing students who represent our district to such a high standard, whether they are in the classroom, on the field, or out in the community," said Mr. Dustin Taylor, Communications Specialist and Managing Editor of The Longview Voice. "This marks the seventh year of this program, with the district giving almost $20,000 in scholarships to Lobo graduates so far." 
The Longview Voice is a district-wide newspaper that covers student, staff, and local community news. The paper is produced by the LISD Community Relations department in partnership with Texarkana-based American Classifieds (formerly the Thrifty Nickel), as well as campus staff and volunteers.
"We encourage all our students to contribute articles and photography to The Longview Voice," said Superintendent Dr. James Wilcox. "That's why it's called 'the Voice,' because it is a voice for our entire Longview ISD community. We want our students to feel a sense of ownership toward this newspaper."
Each year the Community Relations department selects a Longview High School senior student who contributes work to The Longview Voice for a scholarship to the school of their choice.
Past Winners include Estrella Gonzales, Keyarro Hollins, Uwa Ihionkhan, Yosef Ibitayo (Class of 2016); Gaylon Wiley (Class of 2017); German Zelaya, Jose Velazquez, Michael Vera (Class of 2018), Alyssa Shobert, Brady Miller, and Payton Schaap (Class of 2019), Jesse Gonzalez and Emily Mendenhall (Class of 2020), Audrey Smith (Class of 2021), and now Adriana Corona and Joshua Sanders  in the Class of 2022.
Are you a student who is interested in being considered for next year's scholarship? All you have to do is submit an article for publication in any edition of The Longview Voice newspaper and fill out a scholarship application.
For more information please contact the Community Relations department via email at ask@lisd.org or call (903) 381-2200.