Image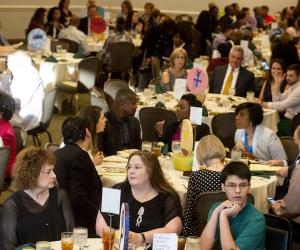 The Longview ISD Foundation, Inc. is proud to announce its 2022 Lamplighter Awards honorees.
Fifth-, eighth-, and twelfth-grade students wrote essays about educators who have had a special impact on their lives, and the winners, this year's Lamplighter Awards honorees, will be honored at the banquet 6:30 p.m. Wednesday, April 13, at Pinecrest Country Club.
Based on an idea inspired by the children's book My Great-Aunt Arizona by Gloria Houston, this banquet will honor a student from each Longview ISD campus and the educator who has had a significant influence on him or her.
Please join the Longview ISD Foundation and its sponsors for the 22nd annual event, an evening that gives students an opportunity to say a very public, very sincere thank you to their special educators.
The 2022 Lamplighter honorees are:
Bramlette STEAM Academy: Anibal Colon honored by Samari Castillo
East Texas Montessori Prep Academy: Kirsten Valentine honored by Er'ien Dukes
J. L. Everhart Elementary School: Yeimy Lopez honored by Brianna Guerrero
Hudson PEP Elementary School: Alison Cooley honored by Emalyn Salinas
Johnston-McQueen Elementary School: Monique Holleman honored by Guinevere Burns
The Bailey School: Presnell Gilbert honored by Javier Ramirez
Ware East Texas Montessori Academy: Idameris Sanchez-Rosa honored by Arim Cerda
Ned E. Williams Elementary School: Melanie Hamilton honored by Zion Mathis
Forest Park Middle School: Madison Gardner honored by Jaquelin Rubio
Foster Middle School: Janel Garner honored by Jaslene Solis
Judson STEAM Academy: Billy Speer honored by Jessica Hernandez
Longview Early Graduation High School: Wesley Turner honored by Trailyn Frazier
Longview High School: Melody McMullen honored by Jessica Stowers,
Nelda Mancha, retired Spanish teacher, honored by Iniabasi Ekpenyong, senior, and Dorcas Dunlap, former Hudson PEP Elementary School teacher, honored by Itoro Ekpenyong
The Longview ISD Foundation will award the twentieth annual Cornerstone Award to Coach John King for his support of the annual Green Out t-shirt sale that raises funds for the Foundation's three grant programs. The annual sale has raised many thousands of dollars for the Foundation.
All proceeds from this event are used to fund the Foundation's annual Great Rewards for Great Ideas Grant Program and annual Campus Initiative Grant Program.
For more information please contact Longview ISD Foundation Executive Director Kay Ray at gray@lisd.org or call 903-452-7015.