Image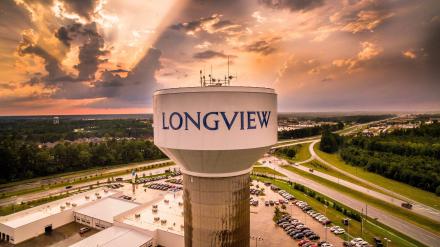 The Longview Independent School District Board of Trustees approved a staff pay plan to cover the April 6-7 emergency school closings in response to last week's city water outage, during their regular meeting Monday, April 11.
Dr. James Hockenberry, Assistant Superintendent of District Services, explained that during an emergency closing, most district employees are instructed not to report for work.
'Obviously we understand the need to address pay for employees who miss work due to unexpected district-wide closures like this that involve extenuating circumstances well beyond their control,' he said.
The resolution calls for continuing the regular pay schedule of all employees, contractual and non-contractual, salaried and non-salaried, who are instructed not to report to work during an emergency closing unless the workdays are scheduled to be made up at a later date.
'While these kinds of crises are rare, the administration believes that continuing staff pay during times like these serves the public purposes of maintaining employee morale, reducing turnover, and ensuring continuity of district staffing when schools reopen,' Dr. Hockenberry added.
Please click here to download the resolution and related documentation.

Computer Hardware, Software Upgrades
Board members also approved utilizing federal funds in the purchase of new computers for Longview ISD campuses.
Dr. Wayne Guidry, Assistant Superintendent of Finance, requested trustees' permission to spend up to $1,000,000 in ESSER II funds to purchase computers for campus utilization.
'Throughout the pandemic, schools have become more dependent on utilizing technology within the classroom,' he said. 'Additional desktop computers and Chromebooks are needed for the upcoming school year.'
Not only that, Dr. Guidry explained, but many current computers are using outdated operating systems.
'We have several computers that continue to use Windows 7, which is several generations old no longer being supported by Microsoft,' he said. 'Whether we're updating software or hardware, we need to ensure that our students have access to the best possible equipment.'
Please click here to download the resolution and related documentation.

New Staff Wellness Program

Board members also approved a $40,824 contract with Virgin Pulse to provide a wellness support system for Longview ISD employees.
Dr. Guidry explained that Virgin Pulse is a company that works with organizations 'to deliver a total health and wellbeing solution for employees that drives sustainable, long-term behavior change and supports organizations in building a culture of health.'
'Throughout the last three years educators have been under a great deal of stress,' he said. 'Virgin Pulse would become a partner of the district and deliver a technology platform to help facilitate our health conscience initiative that we are implementing to ensure we support the wellbeing of our employees and empower them to lead healthier and happier lives both mentally and physically.'
Funding for the Virgin Pulse system will come from the ESSER III grant program, authorized by the American Rescue Plan Act (ARP) signed into law in March 2021.
Please click here to download the resolution and related documentation.

New Buses for SpEd, Travel
Later, the board approved the purchase of two special education buses at a combined cost of $233,658, and two travel buses totaling $258,760.
Dr. Guidry told trustees that Longview ISD currently needs to replace two special education buses for normal route operations, while the travel buses would be designated for extracurricular and UIL events 'as student participation in these areas has increased.'
'The designated travel fund balance will be used for these purchases,' he added.
Please click here to download the resolution and related documentation.

Superintendent's Report
During the Superintendent's Report portion of the meeting, Dr. James Wilcox recognized the district's Elementary and Middle School UIL Academic winners, honored the newly-selected LISD Campus Teachers of the Year, and gave trustees an update on the district's Grants Program for 2022-23.

In other business...
During the course of the meeting, the LISD Board of Trustees also:
APPROVED expenditures of $175,000 for Texas COVID Learning Acceleration Supports (TCLAS) of Decision Point 8, and $52,440 for Decision Point 11 in Year 1 (2021-22);
APPROVED nominating Longview ISD Superintendent Dr. James Wilcox for the 2022 Texas Association of School Boards Superintendent of the Year;
APPROVED Minutes and Board Time Use Tracker for the March 21 Regular Meeting;
APPROVED the TASB Risk Management Fund Interlocal Participation Agreement;
APPROVED a 2022-23 Interlocal Cooperation Contract for Tax Collection;
APPROVED the 2022 2nd Quarter Investment Report;
RECEIVED the financial report for March 2022; and
APPROVED Budget Amendment No. 7.

For more info
Trustees usually meet in the boardroom of the LISD Education Support Center (1301 E. Young Street), but often set special-called meetings at various locations around the district. The next regular meeting is tentatively scheduled for 6 p.m. May 9, 2022.
For more information about the Longview ISD Board of Trustees please click here.