Image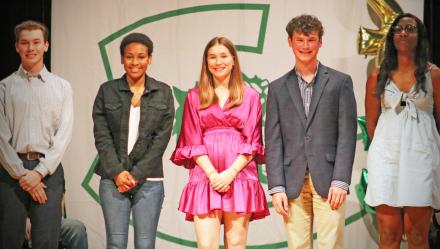 Longview High School is proud to announce that the graduating Class of 2023 has secured an impressive sum of over $5 million in scholarships, showcasing their dedication and hard work in pursuing higher education.
All of us at Longview Independent School District extends our heartfelt congratulations to these deserving students!
Under the guidance of Mrs. Kay Ray, the scholarship coordinator at Longview High School, the seniors have surpassed last year's achievement of $4,520,578 by an astounding amount. The cumulative scholarship amount reached an exceptional $5,640,396, reflecting an increase of over a million dollars.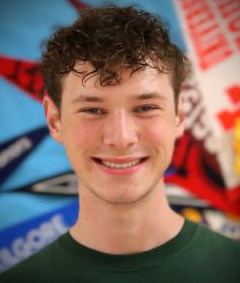 One standout student among the scholarship recipients is Luke Farr.
"Luke's remarkable achievement exceeds one million dollars, positioning him as the top recipient of local scholarships," said Mrs. Ray. "His unwavering commitment to applying for all eligible opportunities demonstrates the potential for exceptional success."

Mrs. Ray commends Luke for his outstanding work and positive attitude, expressing confidence in his future endeavors at Texas Christian University (TCU) and his pursuit of medical school.
The Longview ISD community applauds Luke Farr and all graduating seniors who have reaped the rewards of their hard work. Every district employee extends their warmest wishes for success as these students embark on their next educational milestones!
SCHOLARSHIPS & AWARDS
Longview High School
Class of 2023
Academic Scholarships
Yudiel Aguirre:
Lobo Band Booster Club Top Lobo Band Student Scholarship
Texas A&M University National Scholar Recognition Scholarship
Texas A&M University Regents Scholarship
Texas A&M University Texas Grant
Texas A&M University Texas Public Education Grant Award
Texas A&M University Educational Opportunity Award
Juan Aguilar:
Longview FFA Scholarship, Longview FFA Alumni Chapter
Mario Alchammas:
Longview High School PTO Scholarship
Alisha Allen:
Presidential Scholarship, Xavier University
Xavier University Grant Award
Longview High School Culinary Arts Scholarship
Luke Archer:
Hudson PEP Elementary School PTO Scholarship
Longview High School PTO Scholarship
Lobo Tennis Booster Club Scholarship
Texas Theta Chapter of Alpha Delta Kappa Scholarship
Longview 2020 Forum Scholarship
Nathan Bachtell:
Longview High School UIL Academics Outstanding Student Scholarship
Pam Mercer-McWilliams Theatre Scholarship, LHS Drama Mamas and Dads Club
Texas State Achievement Scholarship
Hailey Barnes:
University of Texas at Tyler Academic Excellence Scholarship
Jagger Barton:
East Texas Coaches Association Scholarship
Lobo Tennis Booster Club Scholarship
Julianna Benitez:
Lobo Memorial Scholarship, Longview ISD Foundation, Inc.
Women in Longview, Grace Shore Memorial Scholarship
Hudson PEP Elementary School PTO Scholarship
Rotary Club of Longview Scholarship
Longview High School PTO Scholarship
Lobo Band Booster Club Scholarship
Texas Christian University Scholarship
Jenny Adams Crain Memorial Scholarship
Sckyler Bias:
Longview High School Viewette Booster Club Scholarship
Caleigh Brown:
Longview High School Viewette Booster Club Scholarship
University of Texas at Tyler Patriot Scholarship
University of Texas at Tyler Academic Excellence Scholarship
Mollie Burton:
Longview FFA Scholarship, Longview FFA Alumni Chapter
Aaliyah Cade:
Longview High School Viewette Booster Club Scholarship
Ryan Carmichael:
LeTourneau University Founder's Scholarship
LeTourneau University Dual Credit Scholarship
Houston Christian University Guaranteed Admission Scholarship
Illinois Institute of Technology Guaranteed Admission Scholarship
Clarkson University Guaranteed Admission Scholarship
Texas State University Merit Scholarship
Katelyn Clendenin:
Lobo Memorial Scholarship, Longview ISD Foundation, Inc.
Lobo Band Booster Club Terry and LaDonna Dunn Scholarship
Westlake Chemical Scholarship Award
Baylor University Distinction Award
Inesha Combs:
Longview High School Viewette Booster Club Scholarship
Luis Correa:
Excelling Eagle Scholarship, Forest Park Middle School Boys in Bowties
Henry "Hank" Danielson Madison Davidson:
Lobo Memorial Scholarship, Longview ISD Foundation, Inc.
Austin Bank Scholarship
Longview 2020 Forum Scholarship
Pam Mercer-McWilliams Theatre Scholarship, LHS Drama Mamas and Dads Club
Catherine DaMoude:
Lobo Memorial Scholarship, Longview ISD Foundation, Inc.
Longview Area Association of Realtors Scholarship
Zonta Club Young Women in Public Affairs Award
Zonta Club Z-Club Scholarship
Cecile Moeschle Scholarship Trust
Gregg County Texas Exes Scholarship
Longview 2020 Forum Scholarship
GET Zonta Scholarship
Rachel de Jong
Longview AMBUCS Scholarship
Longview AMBUCS Too
Yuselin Delapaz
Lady Lobo Soccer Booster Club Scholarship
Diana Dominguez
Longview High School Viewette Booster Club Scholarship
Provost's Scholarship, Loyola University: $22,000 per year for three years
Crescent City Scholarship, Loyola University: $3,000 per year for four years
GeCamri Duffie
Women in Longview Scholarship
Longview High School PTO Scholarship
Pam Mercer-McWilliams Theatre Scholarship, LHS Drama Mamas and Dads Club
University of Texas at Arlington Maverick Academic Scholarship: $4,000 per year for four years
Jefferson Dunaway
Invista Outstanding Student Scholarship/Longview ISD Foundation
Foster Middle School PTO Scholarship
Lobo Band Booster Club Pete Kunkel/Harvey Durham Scholarship
Destination Milwaukee School of Engineering Opportunity Grant
Milwaukee School of Engineering Opportunity Grant
Fred Loock Scholarship
Milwaukee School of Engineering Grant Award
Bethany College Scholarship: $2,000 per year for four years
Seton Hall University Scholarship: $27,500 per year for four years
Seton Hall Summer Scholarship: $1,500 per year for four years
University of Colorado Grant Award
University of Texas at Austin Leadership Network Award: $5,000 per year for four years
Upshur Rural Electric Cooperative Scholarship
Luke Farr
Lobo Memorial Scholarship, Longview ISD Foundation, Inc.
David Brown Memorial Scholarship, Rotary Club of Longview
Longview High School PTO Scholarship
Austin Bank Scholarship
Longview ISD The Voice Scholarship
Longview Regional Medical Center Auxiliary Scholarship
Cecile Moeschle Scholarship Trust: $1,000 per year for four years
The College Board Big Future Scholarship
Texas Christian University Horned Frog Need Based Scholarship: $29,112 per year for four years
Texas Christian University Horned Frog Assistance Scholarship: $14,890 per year for four years
Texas Christian University Faculty Scholarship: $22,000 per year for four years
Texas A&M President's Achievement Scholarship: $2,500 per year for four years
LeTourneau University Dean's Scholarship: $17,000 per year for four years
LeTourneau University Trustees Scholarship: $2,500 per year for four years
East Texas Baptist University Honor Scholarship: $10,000 per year for four years
University of Mary Hardin-Baylor Crusader Scholarship: $3,907 per year for four years
University of Mary Hardin-Baylor Mary Hardin Scholarship: $3,290.00 per year for four years
University of Mary Hardin-Baylor President's Scholarship: $18,000 per year for four years
University of Texas at Tyler Academic Excellence Scholarship: $2,000 per year for four years
University of Texas at Tyler Patriot Scholarship: $2,000 per year for four years
University of North Texas Excellence Honors Scholarship: $2,000 per year for four years
Baylor University Distinction Award Scholarship: $14,000 per year for four years
Texas Christian University Tuition Equalization Grant: $14,000 per year for four years
Texas A&M Aggie Assurance Supplement: $3,873 per year for four years
Texas A&M Presidential Scholarship: $20,000 per year for four years
Michael Fields
Howard Payne University Yellow Jacket Scholarship
Howard Payne University Scholarship Fund Award
Reagan Fleet
University of Texas at Tyler Patriot Scholarship: $2,000 per year for four years
University of Texas at Tyler Academic Excellence Scholarship: $2,000 per year for four years
Delia Fourie
Louisiana State University Merit Scholarship: $24,000 per year for four years
University of Texas Merit Scholarship: $14,000 per year for four years
Stamps Scholarship: $50,000 per year for four years
Distinguished Scholar Award, University of Colorado
Academic Excellence Scholarship, University of Illinois: $8,000 per year for four years
Merit Scholarship, Oregon State University: $12,000 per year for four years
One UGA Scholarship, University of Georgia: $12,000 per year for four years
Chancellor Scholarship, Denver University: $33,000 per year for four years
University of Chicago Academic Excellence Scholarship: $8,000 per year for four years
Oregon State University Merit Scholarship
Martin Guerrero
The Frank LeBus, Jr. 1937 Memorial Football Scholarship
Texas Latino School Boards Association Scholarship
KTBB Scholastic All Stars Team Award
Longview Orthopaedic STAR Foundation Student Athlete of the Year
2022 Great American Rivalry Series Award
Texas Tech University College of Human Sciences Scholarship: $1,000 per year for four years
Texas Tech University Grant Award: $4,000 per year for four years
Texas Tech University Presidential Merit Scholarship: $7,000 per year for three years
Isaiah Harris
Longview High School Culinary Arts Scholarship
Benjamin Hatfield
Rotary Club of Longview Scholarship
Longview High School PTO Scholarship
Pam Mercer-McWilliams Theatre Scholarship, LHS Drama Mamas and Dads Club
Chapman University Scholarship: $58,295 per year for four years
Tommy Hickman
New Arkansan Non-Resident Tuition Award, University of Arkansas: $14,000 per year for four years
Ultimate High School Fishing Scholarship
Zoe Hightower
Columbia University QuestBridge Scholars Scholarship: $83,855.00 per year for four years
Abigail Hilton
President's Scholarship, The University of Alabama: $28,000 per year for four years
Longview AMBUCS Scholarship
Longview AMBUCS Too
Gregg County Texas Exes Scholarship
Longview 2020 Forum Scholarship
Aniya Hopson
Rusk County Rural Electric Cooperative Scholarship
Longview High School PTO Scholarship
Donnie Daniels, Jr. Memorial Scholarship
Hampton University Merit Based Scholarship: $15,000 per year for four years
Delta Sigma Theta Scholarship
Reagan Hull:
Longview Area Association of Realtors Scholarship
Austin Bank Scholarship
Longview High School PTO Scholarship
Carter Mayes Memorial Scholarship
Texas A&M University President's Achievement Scholarship ($2,500 per year for four years)
Texas A&M University Opportunity Award
Kaden Johnson:
Gregg County Master Gardeners Scholarship
VeraBank Scholarship
Longview High School PTO Scholarship
Cecile Moeschle Scholarship Trust ($1,000 per year for four years)
Longview FFA Scholarship, Longview FFA Alumni Chapter
Longview 2020 Forum Scholarship
Karen Juarez:
Lady Lobo Soccer Booster Club Scholarship
Wellness Pointe and Lobo Live Scholarship
Preston Lansford:
RPC, Inc. Scholarship Program ($2,500 per year for four years)
Mary Leak:
Rusk County Rural Electric Cooperative Scholarship
Lobo Band Booster Club Hamburger Davis Scholarship
Order of the Eastern Star Scholarship
Hallsville Masonic Lodge Scholarship
Tarleton State University Presidential Guaranteed Scholarship
Hannah McCrory:
Longview ISD Foundation, Inc. Lobo Memorial Scholarship
Women in Longview, Texas Bank and Trust Hazel Hickey Woman of Excellence Scholarship
Longview High School PTO Scholarship
Foster Middle School PTO Scholarship
Achievement Scholarship, Baylor University ($2,000 per year for four years)
Heritage Scholarship, Baylor University ($3,000 per year for four years)
Distinction Award, Baylor University ($16,000 per year for four years)
Minister's Dependent Scholarship, Baylor University ($5,000 per year for four years)
Baylor University Need Based Grant ($6,620 per year for four years)
Baylor University Faculty Scholarship ($5,000 per year for four years)
President's Achievement Scholarship, Texas A&M University ($2,500 per year for four years)
President's Elite Scholarship, University of North Texas ($12,000 per year for four years)
Longview High School Viewette Booster Club Scholarship
Paris McNeely:
Longview High School Culinary Arts Scholarship
Leilani Mercier:
Lobo Band Booster Club Willie and Bettie Odom Scholarship
Tyler Junior College Band Performance Scholarship ($2,360 per year for two years)
Matthew Miller:
Rotary Club of Longview Scholarship
Eastman Chemical Company, Texas Operations, Technical College Scholarship ($1,000 per year for two years plus customary fees)
Aviagen Scholarship
Cecile Moeschle Scholarship Trust ($1,000 per year for four years)
Kendall Mitchell:
Leroy Romines Memorial Scholarship
Hailey Monsivais:
Women in Longview Scholarship
Rusk County Rural Electric Cooperative Scholarship
Makenna Montgomery:
University of Texas at Tyler Academic Excellence Scholarship ($2,000 per year for four years)
Halle Moore:
Longview High School Viewette Booster Club Scholarship
Emily Morin:
Invista Outstanding Student Scholarship/Longview ISD Foundation
Longview FFA Scholarship, Longview FFA Alumni Chapter
Jakayla Morrow:
Cecile Moeschle Scholarship Trust ($1,000 per year for four years)
Brandon Moses:
Westmont College Visit Grant ($2,000 per year for four years)
Westmont College Committed Student Award ($4,000 per year for four years)
Westmont College Cultural Diversity Award ($2,000 per year for four years)
Westmont College Academic Grant Award
Westmont College Founder's Scholarship ($18,000 per year for four years)
Zackary Mount:
Texas State Technical College Scholarship
Angela Moyer:
Longview FFA Scholarship, Longview FFA Alumni Chapter
Kayden Newhouse:
Longview High School Viewette Booster Club Scholarship
Junior League of Longview Sustainer Scholarship
Stephen F. Austin State University Academic Excellence Scholarship ($5,000 per year for four years)
University of Houston Academic Excellence Scholarship ($4,000 per year for four years)
Longview High School PTO Scholarship
Jax Norman:
SPORTyler Chamber of Commerce Scholarship
The Frank LeBus, Jr. 1937 Memorial Football Scholarship
Kenia Otero:
University of Texas at Tyler Academic Excellence Scholarship ($2,000 per year for four years)
Anaya Parker:
McLauchlin Scholarship for Education Majors, East Texas Professional Credit Union
Crystal Perez:
University of Texas at Tyler Academic Excellence Scholarship ($2,000 per year for four years)
Hailey Pitman:
Longview High School Viewette Booster Club Scholarship
Stonewater Roofing Scholarship
Lillian Purdum:
Women in Longview, Letty Murdoch Jordan Memorial Scholarship
Longview Area Board of Realtors Scholarship
Mozelle Johnston Memorial Scholarship, Judson Alumni Association
Longview High School PTO Scholarship
Mayor Andy Mack Scholarship
North East Texas Regional Mobility Authority Linda Thomas Safe Driving Scholarship
Longview Gregg County Retired Teachers Association Scholarship
Junior League of Longview Sustainer Scholarship
Texas Bank and Trust Excellence in Education Scholarship
East Texas Professional Credit Union Presidential Scholarship
LeTourneau University Dean's Scholarship ($17,000 per year for four years)
LeTourneau University Trustees Scholarship ($560 per year for four years)
LeTourneau University Missionary Pastor Dependent Award ($1,000 per year for four years)
PEO International Star Scholarship
Donnie Daniels, Jr. Memorial Scholarship
Embry Riddle Aeronautical University Scholarship ($22,500 per year for four years)
Oklahoma University Scholarship ($15,000 per year for four years)
University of North Dakota Scholarship ($7,000 per year for four years)
University of Oklahoma Scholarship ($16,000 per year for four years)
Kathia Ramirez:
Longview High School PTO Scholarship
Junior League of Longview Sustainer Scholarship
University of Texas at Tyler Academic Excellence Scholarship
Angel Ramos:
Judge Alvin Khoury Lobo Football Scholarship
Lobo Memorial Scholarship, Longview ISD Foundation, Inc.
Texas A&M University President's Scholarship ($2,500 per year for four years)
Jayla Robertson:
Longview High School Viewette Booster Club Scholarship
Mikeia Robertson:
Longview High School Technology Student Association Scholarship
Irvin Rodriguez:
Houston Christian University Guaranteed Admission Scholarship
University of Texas at Arlington Maverick Academic Scholarship ($6,000 per year for four years)
Kilgore College Superintendent's Scholarship
Salaidh Rudolph:
Longview High School Viewette Booster Club Scholarship
Sam Sherman:
Texas A&M University President's Scholarship: $2,500 per year for four years
The University of Arkansas New Arkansan Tuition Award: $16,000 per year for four years
The University of Mississippi Academic Success Scholarship: $3,000 per year for four years
Anna Skinner:
Longview AMBUCS Scholarship
Longview AMBUCS Too
University of Arkansas New Arkansan Non-Resident Tuition Award: $14,000 per year for four years
University of Alabama Competitive Admissions Scholarship: $10,000 per year for four years
Abigail Smith:
Delta Kappa Gamma Society International, Kappa Mu Chapter, Lola Faye Wilson Scholarship
Andrea Smith:
Delta Kappa Gamma Society International, Kappa Mu Chapter, Lola Faye Wilson Scholarship
Kimmon Smith:
Longview High School Culinary Arts Scholarship
Monica Sosa:
University of Dallas Merit Scholarship Trustees Scholarship: $32,000 per year for three years
Aniah Stansell:
Stephen F. Austin University Academic Excellence Scholarship: $2,500 per year for four years
Haven Still:
Gregg County Chapter of Texas Exes Scholarship
Maya Vargas:
Longview High School Viewette Booster Club Scholarship
Jovanni Vazquez:
University of Texas at Tyler Academic Excellence Scholarship: $2,000 per year for four years
University of Texas at Tyler Patriot Scholarship: $2,000 per year for four years
Erick Van Zyl:
Lobo Tennis Booster Club Scholarship
Tya Venters:
Rotary Club of Longview Scholarship
Longview 2020 Forum Scholarship
Ronald McDonald House Charities of Greater North Texas Scholarship
Daylen Wells:
Lobo Band Booster Club Scholarship
Tyler Junior College Band Scholarship
Kolbi Wolford:
Tiger Excellence Scholarship, Louisiana State University: $15,000 per year for four years
President's Scholarship, Trinity University: $26,000 per year for four years
University of Arizona Distinction Scholarship: $16,290 per year for four years
President's Scholarship, University of North Texas: $10,000 per year for four years
Trinity University Trinity Grant
Texas A&M University Aggie Grant
Texas A&M University Aggie Assurance Award
Texas A&M University President's Achievement Scholarship: $1,250 per year for four years
University of North Texas Excellence Honors Scholarship: $10,000 per year for four years
University of New Mexico Amigos Scholarship: $16,290 per year for four years
Ashlynn Whatley:
Lobo Memorial Scholarship, Longview ISD Foundation, Inc.
Texas A&M University--Corpus Christi Achieve Scholarship: $3,000 per year for four years
Elle Woods:
Longview High School Viewette Booster Club Scholarship
Zonta Club Z-Club Scholarship
Miss Gregg County Scholarship
Texas A&M University President's Scholarship: $2,500 per year for four years
Emma Wright:
Lady Lobo Soccer Booster Club Scholarship
Brian Dodson Memorial Scholarship
Greater Longview Soccer Association Anna Gonzales/Phillip Procell Scholarship
East Texas Coaches Association Scholarship
Lubbock Christian Academic Scholarship: $6,000 per year for four years
Lubbock Christian University Early Signing and Leadership Award
Softball:
River Hulsey: Angelina College, $4,530 per year for two years
Reagan Rios: Louisiana State University--Eunice, $11,500 per year for two years
McClennan County Community College Athletic Scholarship: $8,000 per year for two years
Navarro Junior College Athletic Scholarship: $5,000 per year for two years
Paris Junior College Athletic Scholarship: $53,960 per year for two years
Grand Valley State University Athletic Scholarship: $10,000 per year for four years
Tennis:
Erick Van Zyl: East Texas Baptist University
Track:
Brayleigh Mitchell: Wiley College
Volleyball:
Amirah Alexander: Rock Valley College
Jakayla Morrow: Panola College
Brayleigh Mitchell: Wiley College