Image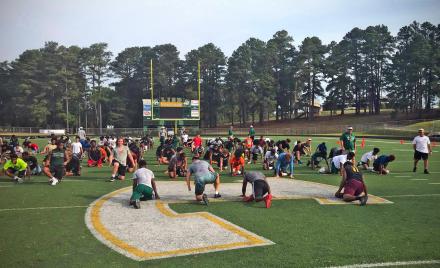 Longview High School's Athletic Department is offering a FREE strength and conditioning camp this summer at Lobo Stadium.
Camp is scheduled for May 31 through July 28 for 9th-12th graders. Grades 7th-8th will workout from June 13-July 22.
Individual sessions are set for 8 a.m. (male students) and 10 a.m. (female students) on Mondays, Tuesdays, and Thursdays.
Coach John King, LISD Director of Athletics, said all Longview students going into grades 7-12 are encouraged to participate.
"Students need to wear the proper workout attire of shorts, t-shirt, and footwear (cross-trainers and cleats are recommended)," he said. "Everything else is taken care of, all free of charge."
Longview ISD's Food Service Department will provide meals after the 8 a.m. and 10 a.m. workouts, and King said the camp offers young athletes an opportunity to develop their skills under the direction of his professional staff.
Close attention will be paid to the students' hydration during the program, King added.
"Our students' health and well-being will be the top priority at all times," he said. "Our staff will be monitoring throughout camp to ensure our young people are getting plenty of water and not getting too hot."
For more information about the 2022 Lobo Strength & Conditioning Camp please contact the LHS athletic department at 903-381-3950.