Image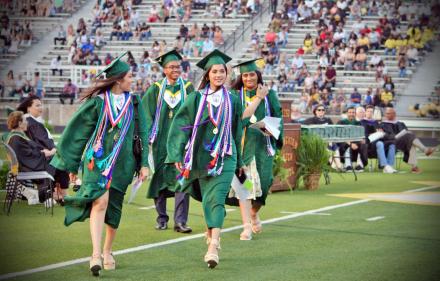 On a warm Friday evening, Lobo Stadium was packed as the Class of 2022 marched out onto the field with their cap and gown representing all of their hard work over the last four years.
Senior Class President Dolores Peña welcomed the crowd, thanking the love and support from the Lobo family and friends.
"I wish you all the best of luck in your future endeavors. I know each and every one of you will be successful." 
LHS Salutatorian Iniabasi Ekpenyong is excited about the future and looking towards the exciting things it has in store.
"In graduating, we will take our first real steps towards becoming adults; independent for the first time in our lives," Iniabasi said. "Still, I'm going to be honest. The future can be terrifying. We are forced to venture into unfamiliar places and leave our friends behind. For the first time in our lives, we will be alone., without the support of our parents and teachers. From what I have heard, life is going to be very painful. Whether it's enrolling in college or beginning a career, whatever you may pursue, you are bound to face challenges, some harder than others. But I have good news: don't give up. You will persevere and your blood, sweat, and tears will mean something. Maybe not today, or the next, but one day."
He went on to raise the hope of the friends the grads will make along the way.
Class of 2022 Valedictorian Nitya Jagarlamudi has one word for the last four years.
"If I had to summarize the last four years of high school in one word, I would describe them as unpredictable. Unpredictable in the ways we have grown and succeeded, as we have discovered and devoted ourselves to our passions. Unpredictable in the way we have confronted competition, failures, and struggled with mental health. Unpredictable in the way that it has been nothing like the Disney Channel shows we grew up watching. " 
She went on to thank the mothers, dads, siblings, teachers, coaches, and counselors for inspiring and guiding the graduates.  
With some offers still pending, scholarships total $4.4 million for nearly 600 seniors, according to Mrs. Kay Ray, Longview High School's coordinator of college scholarships and financial aid. For the complete listing of scholarships please see the story here.
The Top 2 percent of the Class of 2022 includes (in alphabetical order): Safin Chowdhury, Rachna Edalur, Iniabasi Ekpenyong, Arya Germanwala, Matthew Guck, Aditya Jagarlamudi, Nitya Jagarlamudi, Sofia Massare, and Gowri Rangu.
Graduates finishing in the Top 10 percent of their class include (in alphabetical order): Victor Aguilar, Brianna Alderman, Emily Arambula Cisneros, Zane Bunn, Preston Byrnes, Jake Chamberlain, Clancy Davis, Joseph Egbe, Itoro Ekpenyong, Diego Enriquez, Abigail Fletcher, Dylan Gonzalez, Thomas Greifenkamp, Manuel Hernandez Santillan, Anthony Holyfield, Isabella Hough, Rylee Hunter, Otibhor Ihionkhan, Alexis Jones, Zoe' Kelt, Mason LaMaster, Ana Morales, Neha Nirmal, Missael Olvera, Kelli Owings, Kenesha Redden, Trentyn Reid, Celia Rodriguez, Joshua Sanders, Cesia Santacruz, Veronika Sloan, Jessica Stowers, Brayden Strong, Brooklynn Sumrow, Mya Vance, and Chancellor Williams.
The graduation ceremony was live-streamed via the Longview ISD YouTube and linked to the district social media pages for relatives unable to attend.