Image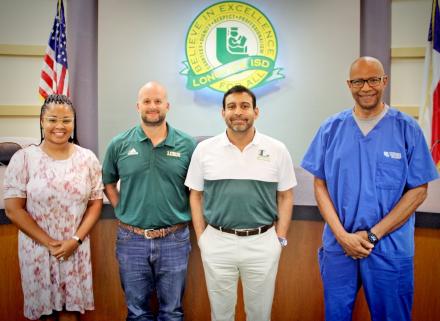 The Longview ISD Board of Trustees reorganized board officers during their June 6 regular meeting.
Officers for the board will be Mr. Michael Tubb (Place 1), board president; Dr. Samir Germanwala (Place 3), vice president; Dr. Troy Simmons (Place 7), secretary; and Mrs. Shan Bauer (Place 5), assistant secretary.
The current Board of Trustees for Longview ISD also includes Mr. Brett Miller (Place 2), Mrs. Ginia Northcutt (Place 4), and Mr. Ted Beard (Place 6). 
Mrs. Bauer steps down as president after presiding during the challenges of COVID-19, and Superintendent Dr. James Wilcox praised her, "steady hand of conscientious and compassionate leadership during some extremely unprecedented events in modern history." 
"The students, employees, and community of Longview ISD were greatly served by Mrs. Bauer's leadership during some of the most difficult times that many of us have experienced in public education," he said.   
Serving as a link between the community and the classroom, school board members are elected to establish the policies that provide the framework for public schools. LISD trustees are responsible for an annual budget of more than $78 million, over 8,000 students, and nearly 3,000 staffers.
 
Superintendent's Report
During the Superintendent's Report portion of the meeting, Dr. James Wilcox received an update on the LISD Athletic Department from Coach John King, a report on LISD Incentive For Teachers (LIFT) attendance, as well as a donation from TCIS and a presentation from Mr. Trevor Bergman on behalf of local non-profit We Help Two's partnership with Hudson PEP Elementary. Hudson PEP is working with Mr. Bergman's organization to provide material resources and supplies for an economically-disadvantaged community and school in Uganda. 
In other business...
During the course of the meeting, the LISD Board of Trustees also:
APPROVED continuation of contracts with Capturing Kids Hearts (The Flippen Group) and Communities in Schools for 2022-23. The programs will continue to be paid for with federal grant funds;
APPROVED authorizing Gregg County Taxing Entities to sell excess property owned by Gregg Appraisal District;
APPROVED Minutes and Board Time Use Tracker for the May 9 Regular Meeting and May 18 Special Meeting;
APPROVED an out-of-state travel request from the Lobo Choir to perform at Carnegie Hall in New York City;
APPROVED a resolution authorizing the sale of property pursuant to an order of the District Court;
APPROVED Budget Amendment No. 9.
For more info
Trustees usually meet in the boardroom of the LISD Education Support Center (1301 E. Young Street), but often set special-called meetings at various locations around the district. The next regular meeting is tentatively scheduled for 6 p.m. July 11, 2022.
For more information about the Longview ISD Board of Trustees please click here.