Image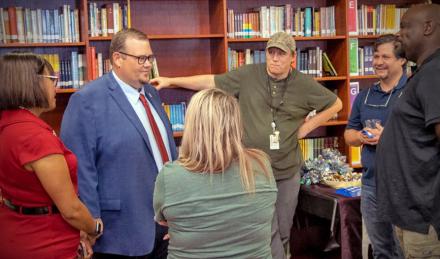 Former Big Sandy ISD Assistant Principal Mr. Chuck Isaac has been hired as the new Principal for Foster Middle School.
The Longview ISD Board of Trustees unanimously approved hiring Mr. Isaac during their May 18 special-called meeting.
Mr. Isaac has been in education for two decades in various roles, including classroom teacher, coach, and administrator. He began his career in public education as a history teacher and coach at Trimble Tech High for Fort Worth ISD.
During his career, Mr. Isaac has worked for school districts in Dallas, Tyler, Marshall, Jefferson, Ore City, and most recently at Big Sandy ISD, where he was Assistant Principal for grades 6-12.
Superintendent Dr. James Wilcox said he has been familiar with Mr. Isaac's work and reputation for a number of years, and when the administration saw the opportunity to fill an important role with such a qualified applicant, "We did not hesitate."
"Chuck Isaac brings a wealth of talents and life experiences that make him uniquely qualified to lead a campus as dynamic as Foster," he said.
Mr. Isaac replaces interim principal Mr. Christopher Trotter, who served in the role after previous campus principal Mr. Ryan Carroll moved over to Forest Park Middle.
"We greatly appreciate Mr. Trotter's invaluable assistance during this transition," added Dr. Wilcox.