Image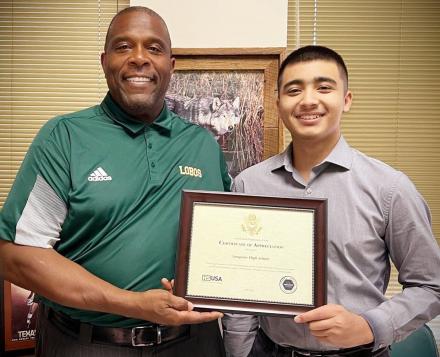 By Boburbek Boymirzayev
LHS 2022 Graduate
In all honesty, I never thought that my dream to study in the United States of America would come true in such an early period of my life. 
In 2021, I was ecstatic to find out that I successfully passed all the steps of the FLEX program and was granted a year of studies in high school. After a long flight full of unforgettable moments with other FLEX students, my host family met me at the airport and took me to my future American home in the suburbs of Dallas. 
My host, the Guck family, are the kindest people I have ever met in life; always smiling and caring. Theresa Guck, her husband Steve Guck, and their 4 children became my life-long relatives. 
I clearly remember all the challenges I went through in the first couple of weeks. No one understood my English and I didn't understand their way of speaking, but what shocked me most was that they didn't do the handshaking the way we do here in Uzbekistan; so that was the moment when I realized that I didn't know much about American culture. I am going to miss drinking hot tea in the mornings and our food in general. It took me approximately one month to adjust to a new culture. Very soon I fell in love with their cereal and peanut butter and jelly sandwich and real pizza that I still believe you can find only in America.
The most amazing thing that attracted me to American schools was the school lunch. Such lunches are not provided at our school, especially for free. Eating in a cafeteria with friends during lunch is the most wonderful of the American vibes. In America, I was better understood by adults than by my best friends, and it would be much easier for me to communicate with them. I think I will miss them a lot.
During my exchange, I studied not only American culture but also Filipino culture, and it is no exaggeration to say that this is one of my greatest achievements in America. Throughout my research, I have learned that we have many similarities, despite our different religions, customs, and cultures. Our Uzbek proverbs and words that we use in our daily lives are often used by Americans. Religiously, they also include fasting and morning prayers.
There is nothing special about feeling like you have never felt in your life. Whenever I saw American holidays and big buildings in the movies, I always wanted to feel the emotions that people in those movies felt, and I never imagined that my dreams would come so fast a year later. For example, when I first went to see the skyscrapers, I was moved to tears by their beauty. On the eve of Halloween, it is strange for us to go from house to house collecting sweets and opening presents around the Christmas tree on Xmas. But I have felt these feelings at least once in my life, and many of the dreams I dreamed of as a child came true in those seconds.
We all know that animals are friends of humans, but for Americans, dogs and cats are not only their friends but also their family members. So we have a puppy named Atom in our house too. His eyes were like a black button and he often played with people, and when he was bored he would put his head in the corner of the sofa and relax. Atom's laughter and his eyes will be the biggest thing I will miss when I am in Uzbekistan. 
I am proud to say that when I first came to America, I had homesick, but when I learned about American life, this feeling is far away from me, but this feeling will return soon, that is, when I am in Uzbekistan, my life in America and my loved ones will be Homesick.
In one year in America, I had done so many activities and took part in dozens of events that I wish every school kid could experience in life because as an adult and college student, there won't be enough opportunities or time to have those crazy moments of teenage life that are full of joy and amusement. 
My experience in the U.S. had a valuable impact on my life and broadened my vision of the world. Experiencing life in the United States in such an early period of my life molded my personality and showed me life from a different perspective. 
When I return home, I think I am going to be surprised to see everything from a different point of view. I will feel like I am going to return home as a more mature and independent person with unforgettable memories.
— Boburek Boymirzayev was an exchange student at Longview High School from Uzbekistan. He graduated with the LHS Class of 2022.