Image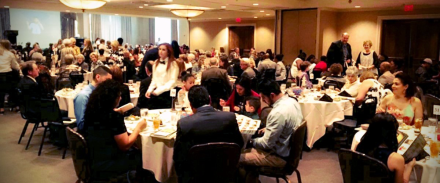 The Longview ISD Foundation has announced its annual raffle, which will be held in conjunction with its Lamplighter Awards banquet. 
This year, the Foundation will hold four separate drawings on Thursday, April 13, 2023, at 6:30 p.m. at the 23rd annual Lamplighter Awards banquet at Pinecrest Country Club.
The raffle tickets are available for purchase, with one ticket for $5 or three tickets for $10. When buying a ticket, buyers can decide which item they want to win, spreading tickets among the items or putting all tickets on one item. The winners need not be present to win.
The 2023 Lamplighter Awards Raffle items include:
          Shimmering 4mm 14K yellow gold and sterling ladies' Vahan bracelet (the newest open style design) with .09 ct diamonds (total weight). Donated by Henry and Moore Jewelry. Retail value: $1,750.
          "Dine Across Longview" Gift Card Basket $25 gift cards to Longview's favorite eateries plus a four-course luncheon for ten in the Lobo Bistro prepared by the culinary arts instructors and students. Retail value: $800.
          "Enjoy the Outdoors!" Custom, fully lined, rolling drink cooler handcrafted from an original whiskey barrel, measuring 28" by 38" from BlackHawk Wood Designs. Retail value: $400. *Custom 36" X 36" square fire pit with Rocking L cutouts with removable 12"x 32" cooking surface. Constructed and donated by LHS Welding I and dual credit students. Retail value: $400.
          2023 Trek Marlin 6 Mountain Bike. The winner can select size XS to XXL and color (red, black, or orange). Includes complimentary bike fit and 6-month tune-up. Donated by Woolley G's Bike and Fitness. Retail value: $1,000.
LISD employees may text or email the Foundation director, Mrs. Kay Ray, exactly which items to check on their raffle tickets and then pay by Venmo at Kay Ray @besmart1, which will legally and securely transfer money to the Foundation's checking account, or email her what they want to win and send their payment to her at Longview High School.
The raffle tickets are also available for purchase from any Foundation board member and Kacy Swaim in the Longview ISD Community Relations Department at the LISD Education Support Center, 1301 E. Young Street, and at Henry and Moore Jewelry in the shopping center adjacent to Hobby Lobby on Loop 281.
By supporting this annual raffle, you might be a big winner while also supporting the Longview ISD Foundation, which to date has returned $1,042,092 to LISD classrooms and campuses through its three grants programs! Information about the raffle and pictures of the items are also available on the Foundation's website at LISDfoundation.org 
The Longview ISD Foundation, Inc. is an independent, nonprofit organization committed to enhancing the educational experience of students within the Longview Independent School District by funding innovative and strategic programs for the district's 17,000 students. To date, the Foundation has returned $1,042,092 to LISD classrooms and campuses through its three grants programs. For more information, visit LISDfoundation.org