Foundation to offer new staff scholarship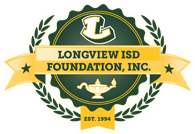 The Longview ISD Foundation, Inc. proudly announces it has established the Employee Scholarship Award to assist district staff who are pursuing classes and/or certifications related to classroom education in English, math, science, social studies, bilingual education, special education, STEM, or counseling with the intent of improving classroom instruction and direct services to students in LISD.
The scholarship will not be awarded to employees seeking administrative certification with the intent of leaving the classroom.
The Longview ISD Foundation, Inc. will award two scholarships, one at the elementary level and one at the secondary level.
Rules and Regulations
Employee Scholarship $500
The employee must have completed one (1) year of employment with the district and must be continuing his/her employment with the Longview Independent School District. 
The employee must have demonstrated the following:
Outstanding work ethic and teaching ability
Participation in school and community organizations and activities
Leadership ability
Application Requirements
The employee must complete the scholarship application and include two letters of reference from individuals who represent different sources and who are not related to the applicant (example: principal, instructional supervisor/coordinator, pastor, member of a community organization).  Reference letters do not need to be in a sealed envelope.  Applications and other information submitted with the application become the property of the Longview ISD Foundation, Inc.
Completed application and letters of reference must be submitted to the Foundation by Monday, November 7, 2016.
Longview ISD Foundation, Inc.
Attn:  Kay Ray, Director
P. O. Box 2807
Longview, Texas 75606
Questions?  Contact Kay Ray at 903-452-7015 or 903-663-7129 at Longview High School on Monday or Wednesday only or at gray@lisd.org.
Scholarships will be announced by December 12, 2016.